"I want to give readings, but don't know where to start..."
FREE: Discover the Easiest Way to Start Giving Readings... Right Away!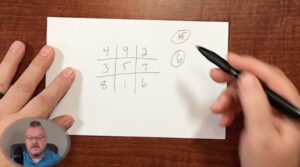 In less than 15 minutes my free online video will show you the basics of giving a fun (and accurate!) reading using the Lo Shu grid. – Jay
A few years ago I was struggling with trying to figure out how to get started with readings. One friend of mine was doing tarot, which didn't feel right for me (and looked really complicated) and another was doing palm readings and while that was before Covid, I'm kind of glad I didn't get into something where touching other people is a part of it. 🙂
Then I stumbled onto the Lo Shu version of numerology and fell in love with it because…
It's not something a lot of people have seen.

It's fast and easy to get started.
The readings are really fun and accurate.
With my 13.5 minute video (and downloadable PDF cheat sheet) you can see how easy it is to give readings! Join my list and I'll email you a link to the PDF and video right away  — even if it's in the middle of the night!